Features
The KG model is designed for placing on floor when placing in platform is not required or if the platform is not constructed for carrying the weight of the Dissolver.
The Dissolver can operate in 2, 3 or 4 stationary containers of up to 01 600mm in diameter and a max gross volume of 3500 litres. The Dissolver is delivered with foot for platform height up to 2200 mm. Higher foot can be supplied on request.
Further the Dissolver is delivered with the length of the stirring shaft adjusted to the customer's container dimensions, in order to obtain the optimum dispersion.
The Dissolver has a lifting height of 1600 mm, which is reached in approx 40 seconds.
Technical Details:
Type 3500KG
Speed range rpm 400 - 1200
| | | | | | | | | | | | | |
| --- | --- | --- | --- | --- | --- | --- | --- | --- | --- | --- | --- | --- |
| Main | HP | 60 | 75 | 100 | 122 | Motor | HP | 50 | 60 | 80 | 95 | 109 |
| Motor | kW | 45 | 55 | 75 | 90 | Mototr EX | kW | 36 | 44 | 58 | 70 | 80 |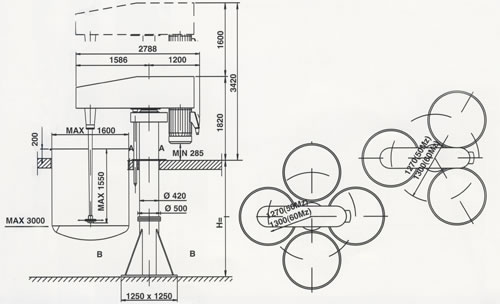 Gallery