Dissolver 1200 DH, Dissolver 2300ZH with Vacuum, DIAMIX, Dissolver Minibatch 20VH
Features
With 90 years of experience and expertise, DIAF AS is one of the world's most renowned suppliers of machinery and plants for the chemical-technical processing industry, and in particular for the paint, varnish and printing ink sectors. Our product range has been developed to meet the individual needs of every customer, ie DIAF has the perfect solution for laboratory scales as well as for large turnkey projects.
We believe that our ability to develop still more sophisticated machines incorporating intelligent (product-dependent) control technology will enable us to improve the efficiency of the equipment further and remain at the forefront of the technological development in this industrial sector.
Our state-of-the-art machinery is exported to countries all over the world, and in order to secure optimum support and service to our customers, we have selected a range of highly skilled representatives worldwide.
A selection of our services and products:
Planning, engineering and know-how
Development and construction
Installation and commissioning
Dissolvers
Mixers
Homogenisers
Bead Mills
Vibration Sieves
Filling Equipment
FILLING MACHINES
DIAFILL - Automatic volume dosing.
MAXFILL - Semiautomatic weight filing machine. Lid Closing Device for flap lids and lever lids.
VIBRATION SIEVE
RS 450 for dry and liquid materials.
DIABLEND – Turbine mixer
With mobile stand or for attachment to container
DIAF Dissolvers
1,35-110kW (1,85-150 HP). For mobile and stationery containers.
Motor in fan-cooled and Ex-execution. Infinitely variable speed adjustment.
DIAMIX – up to 6000 litres net volume
Combined dissolver and mixer.
Executions in ordinary or stainless steel.
DIAFLEX – Mixers
0,5-130 kW (0,75-200 HP). Fixed or infinitely variable speed.
For containers from 25-30,000 litres.
Mixing units adapted to the individual purpose.
Special executions according to order.
Computer programmed dimensioning.
Gallery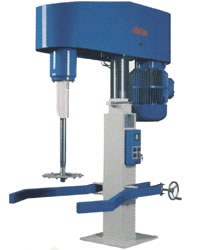 Dissolver 1200DH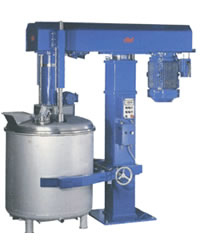 Dissolver 2300ZH with Vacuum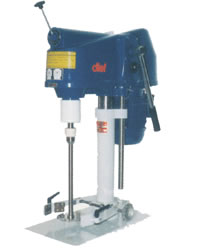 Dissolver Minibatch 20VH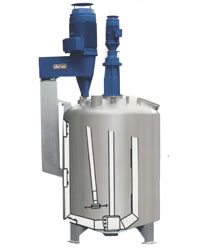 DIAMIX