Features
The KS model is designed for placing into a platform, but due to the low construction height it is also suitable for factories with floor plan construction, where the deck is functioning as a base plate for container and Dissolver, i.e. the machine is mounted between the floors.
The Dissolver can operate in 2, 3 or 4 stationary containers of up to 01600mm in diameter and a max gross volume of 3500 litres.
Further the Dissolver is delivered with the length of the stirring shaft adjusted to the customers container dimensions, in order to obtain the optimum dispersion.
The Dissolver has a lifting height of 1600 mm, which is reached in approx 40
Technical Details:
Type 3500KS
Speed range rpm 400 - 1200
| | | | | | | | | | | | | |
| --- | --- | --- | --- | --- | --- | --- | --- | --- | --- | --- | --- | --- |
| Main | HP | 60 | 75 | 100 | 122 | Motor | HP | 50 | 60 | 80 | 95 | 109 |
| Motor | kW | 45 | 55 | 75 | 90 | Mototr EX | kW | 36 | 44 | 58 | 70 | 80 |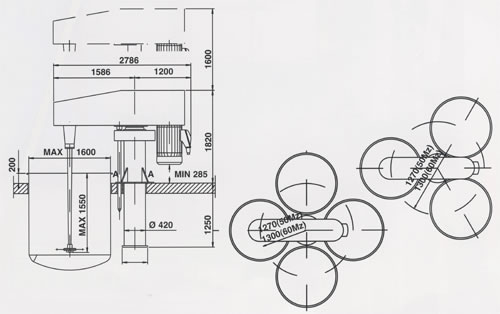 Gallery